Grange 120 is a freehold development located right in the heart of the Orchard District in Singapore. It is located at 120 Grange Road and the land was acquired by Roxy Pacific Holdings for S$48.5 million. 120 Grange represents a prime freehold piece of land located in the city area. There has not been any government land sales programme for prime freehold land located near Orchard and the development represents an opportunity for buyers who are looking for freehold land.
Grange 120 Roxy-Pacific Holdings
| | |
| --- | --- |
| Project Name | Grange 120 |
| Address | 120 Grange Road |
| Developer | Roxy Pacific Holdings |
| Tenure | Freehold |
| District | D10 |
| Site Area | 15,780 sqft |
| Gross Floor Area | 33,138 sqft |
| No of Blocks | 01 |
| No of Storeys | 17 |
| No of Units | 56 |
| Unit Types | 1 Bed, 2 Bed, 2 Bed Dual Key |
| Description | Freehold Condo by Roxy Pacific Holdings at Orchard Boulevard MRT Station |
120 Grange Road Condo by Roxy Homes was previously a 11-storey building that consist of 18 private residences. Roxy Pacific Holdings has bought over the aging building that is sitting on a land size of 15,780sqft with a total build up area of 26,350. The land has an existing plot ratio of 2.1 and this suggest that the floor area could be max out at 33,138sqft.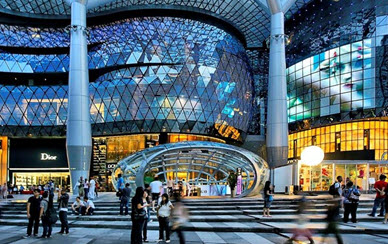 Ion Orchard
Ion Orchard is an iconic shopping centre located near to 120 Grange with a wide range of anchor tenants in the shopping centre. Ion Orchard is an iconic shopping centre in Singapore that features some of the top international brands around the world including Tiffany, Cartier, Louis Vuitton as well as other international brands. Ion Ochard is a cosmopolitan destination which includes a observation deck Ion Sky located on the 55th and 56th floor of the development.
Ion Orchard is considered Singapore's premier shopping centre as it is located near to Orchard MRT Station. Together with other premier shopping centres such as Takashimaya as well as Paragon and Mandarin Gallery, these shopping centres form the iconic Orchard Shopping Belt in Singapore.
120 Grange Roxy Pacific Holdings
120 Grange Roxy Pacific has full and unique facilities which is a gated compound, clubhouse, function room, gym, swimming pool, sun deck and BBQ Pit. The condo's facilities provide full family entertainment needs for your family and loved ones. Indulge in a serene and tranquil lifestyle right in the heart of Orchard. Grange 120 is located near to many amenities such as bicycle trails at the city centre in an effort for the government to encourage a car free city and therefore there will be many hi tech bikes for many bike enthusiast who are looking for some outdoor exercises in the city area.
120 Grange Condo is located in the serene and quiet part of Orchard Road and therefore offers a true serene lifestyle in the heart of the city. Orchard Road remains as Singapore's iconic shopping district with numerous upscale shopping centre. There is also a whole chain of bars, coffee clubs as well as dining options along the Orchard District making 120 Grange a true cosmopolitan place to live in. 120 Grange Road represent a freehold development right in the heart of the city. Other developments that are close to the city include Boulevard 88 which is by City Developments Limited. It is a freehold condo located right in the centre of Orchard Road at Cuscaden Road.
Orchard Road City Centre Condo
Several buses are available near Orchard Boulevard as well as Grange Road. 120 Grange Roxy Homes is located right in the heart of Orchard where there are plenty of shopping centres located near to the development such as the iconic Ion Orchard, Forum The Shopping Mall, Tanglin Mall, Far East Shopping centres as well as many others located within the Orchard Shopping District. Developments in the city area are highly sought after especially in the Orchard area with the full sell out of Cairnhill Nine located in Orchard next to Paragon Shopping Centre. Other developments in the Bukit Timah area include Fourth Avenue Residences which is located at Bukit Timah. Fourth Avenue Residences is located right next to Sixth Avenue MRT Station.
Freehold Developments vs 99 Years Leasehold Developments
Also, it is noted that freehold developments are better than 99 years leasehold development as freehold developments hold their value far better after a considerable number of years has past. The initial payment maybe higher for freehold development but it will hold its value much better than 99 years leasehold developments
Core City Centre Condos at Grange Road
Property analyst note that the recent pick up of the property market in Singapore has prompt more developers to look for enbloc sites in an effort to shore up the developer's land banks. In particular, land sales under the Government Land Sales Programme may not be enough for developers and therefore enbloc process maybe the next viable way for developers to acquire more land for redevelopment. Grange 120 represents one of the rare freehold developments located in the core city centre next to Orchard Boulevard MRT Station where the supply of 1 and 2 Bedroom units are low around the area. Grange 120 is minutes walk away from the Tanglin area as well as the Orchard area where there are plenty of shopping and amenities are available.
Tanglin Mall
Tanglin Mall is located at the junction of Tanglin Road as well as Grange Road and is a popular shopping mall located near to 120 Grange Road.
Tanglin Mall brands itself as a one stop lifestyle mall with F&B, retail, fashion and home appliances, hairdressing and dental outlets available within the mall.
120 Grange Road Roxy Homes
120 Grange Condois also near elite schools such as Raffles Girl's Secondary School, St Magaret's Secondary School and Nanyang Primary School. For buyers who are looking for some outdoor activities, 120 Grange is also located near to Sentosa Gateway.
For vehicle owners, it takes less than 5 minutes to drive from Orchard to the business hub and vibrant Dhoby Ghaut, via Orchard Boulevard or Orchard Road.
120 Grange Orchard Boulevard MRT Station.
A wonderful and unique lifestyle awaits you right in the heart of Orchard. Please see 120 Grange Road site plan and floor plans for more information.